Baler in Aurora Province is home to a number of surfing spots: From the popular beach break of Sabang that's ideal for beginners, to the secret hideouts that only the pros and locals know (unless you ask them nicely). Fun fact: It was the location of the 1979 film Apocalypse Now, which featured some surfing scenes. Another fun fact: Contrary to popular belief, it wasn't the film crew that introduced the sport to the area, as locals argue that they'd been surfing in the province since the early '70s. History aside, we all know that Baler has become a second home for a number Manila-based surfers, especially given the relatively short bus ride from the city. With the surf season upon us, it's time to book a room in one of the following resorts and hotels.
For the Couple on a Romantic Getaway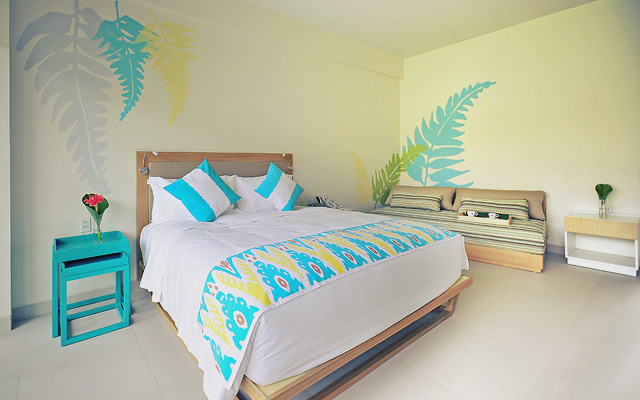 Costa Pacifica
80 Buton Street, Sabang Beach
Contact: 519-4249
E-mail: inquiry@costapacificabaler.com
Rates start at P7,500
Costa Pacifica is one of the upscale resorts along Sabang Beach. All of its suites and one-bedroom accommodations have a private veranda where you get a nice view of either the courtyard or the ocean—perfect for early-morning wave checks. When not surfing, you can choose between splashing around Costa Pacifica's outdoor pool or spending some time lounging in the hammocks.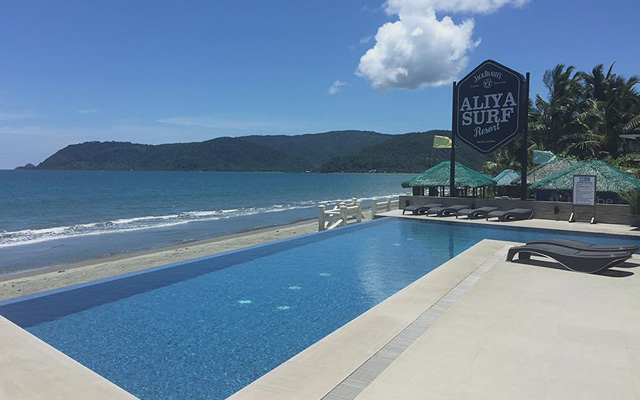 Aliya Surf Camp and Resort
Buton Street, Sabang Beach
Contact: 0939-939-0929
E-mail: inquire@aliyasurfcamp.com
Rates start at P2,688
The couple that surfs together, stays together! We made that up, of course. But Aliya Surf Camp and Resort is a good place to start if you've been wanting to ride the waves. Lessons with a certified surf instructor start at P350/hour. After a full day of surfing, you can hang out at the outdoor dining area and watch some TV or take a dip in the swimming pool.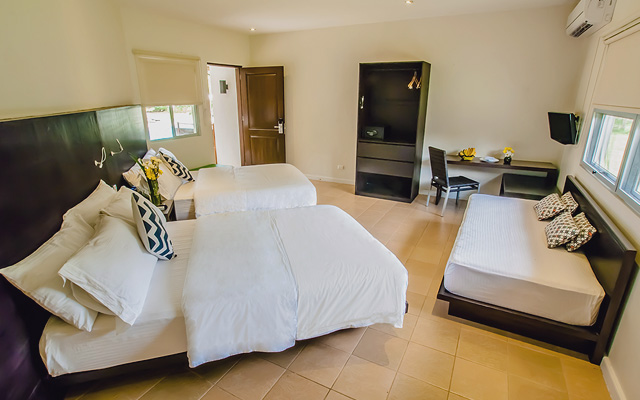 Casita de Bahia
80 Buton Street, Sabang Beach
Contact: 519-4249
E-mail: inquiry@costapacificabaler.com
www.costapacificabaler.com/casita-de-bahia/
Rates start at P5,500
Located 250 meters away from Costa Pacifica, Casita de Bahia is recommended for couples who prefer an escape that's far from the crowd. It has a total of 10 bungalow-type rooms, each with its own veranda. If you need to go back to the beachfront, there's a shuttle service that's available upon request.
For a Weekend Escape with Your Friends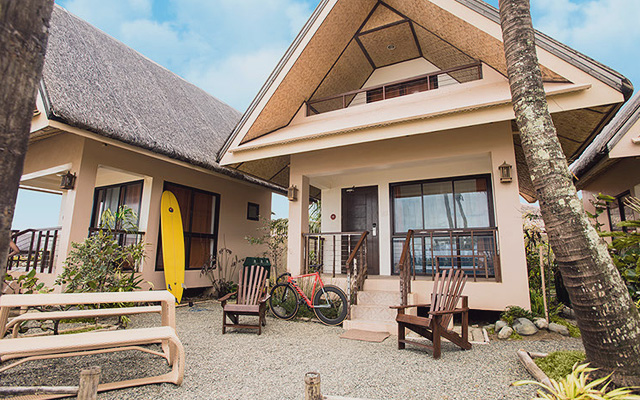 Nalu Surf Camp
Sabang Beach
Contact: 0917-817-2606
E-mail: nalusurf.ph@gmail.com
Rates start at P250
Nalu Surf Camp may be known for its hammock-style accommodations (P250/head) for solo travelers, but this resort also has a variety of rooms for big groups. Whether you're a group of three (P2,200/night) or of eight (P9,500), there's something for everyone at this resort. It also has its own surf school where lessons are at P350/hour. This comes with free photos and beer for a full-on surf squad experience.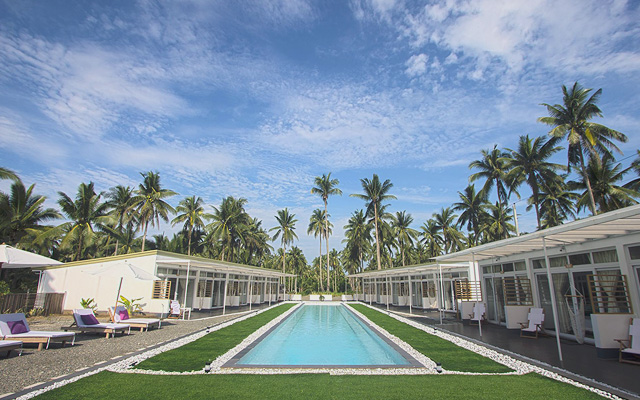 L'Sirene Boutique Resort
Purok 6, Reserva, Poblacion
Contact: 0917-743-8556
E-mail: info@lsireneboutiqueresort.com
Rates start at P5,000
L' Sirene Boutique Resort is a newly opened resort owned by former Pinoy Big Brotherhousemate Sam Pinto. It started welcoming guests on April 1 and was already fully booked throughout its first month. Can't blame the crowd. L'Sirene's serene vibe (obviously!) away from crowded Sabang Beachmakes you want to stay there forever.
For the Bold and Daring Solo Traveler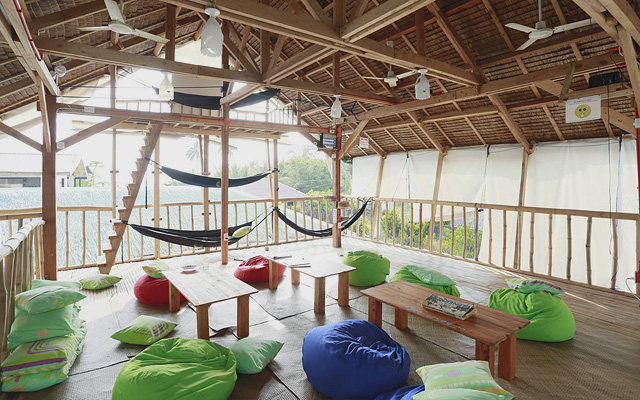 The Circle Hostel
Buton Street, Sabang Beach
Contact: 0917-501-0235
E-mail: baler@thecirclehostel.com
Rates start at P500
The Circle Hostel's Baler branch is a must-see if you're an artist-surfer-skater or just someone who knows how to have fun. The hostel's walls and even stairs are splashed with colorful murals, the common areas have beanbags for lounging around, and there's a mini-half pipe that's perfect if you're just trying out some skateboard tricks for the first time. For the accommodations, you can choose from the comfy hammocks (P400) or bunk beds with mosquito nets (P500).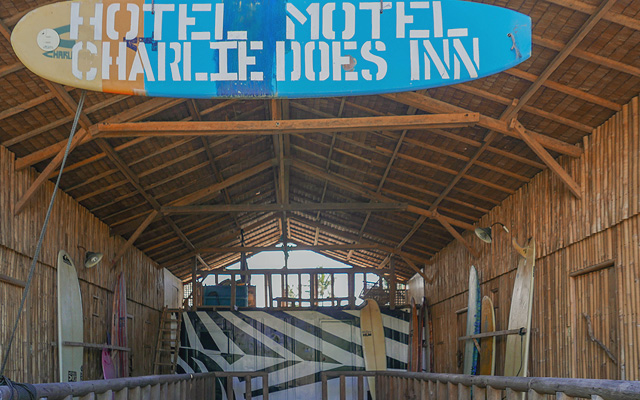 Charlie Does Hotel Motel
Buton Street, Sabang Beach
Contact: 0939-830-1913
E-mail: escape@charliedoes.com
www.facebook.com/pg/Charlie.Does
Rates start at P800
More than an accommodation option, Charlie Does has a surf shop that allows local surfers and instructors access to better surf gear for a discount. They also serve vegetarian food such as Tofu Barbecue, Mushroom Tapa, and Vegetable Sisig to Baler guests who just can't skip their healthy meals. Their cheapest room at P800 is good for two people.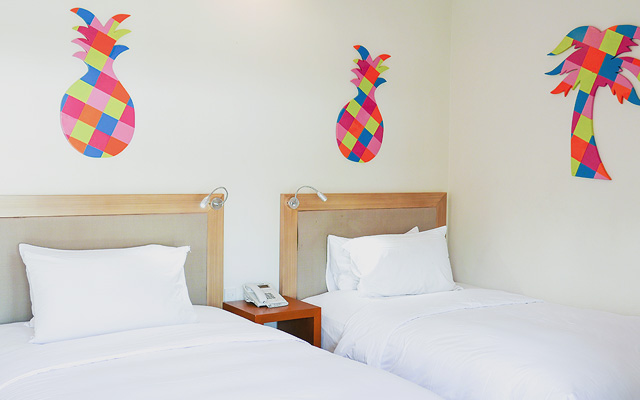 18 on Buton
18 Buton Street, Sabang Beach
Contact: 0917-625-2844
E-mail: reservations@18onbuton.com
Rates start at P5,000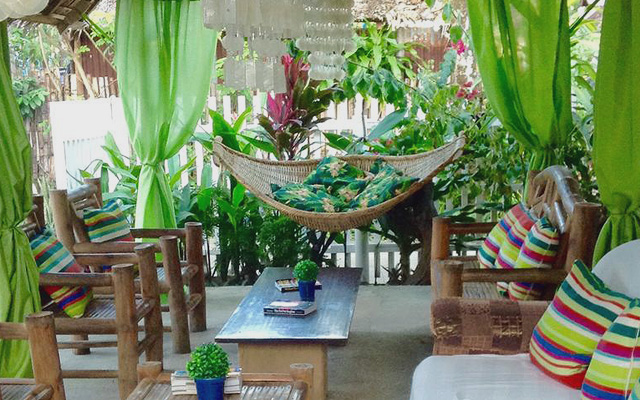 Mahdox Backdoor Villa
Alley 1 Sabang Beach
Contact: 0977-747-6120
E-mail: backdoorvilla@gmail.com
Rates start at P1,500
The first thing that would catch your attention when you step into Mahdox Backdoor Villa is the common area with a modern Asian theme. There are a couple of hammocks that can fit up to three people, Bali-inspired sculptures in the corners, and bamboo tables and chairs perfect for hanging out with the whole family. Room rates range from P1,500 to P2,500 for two to four people.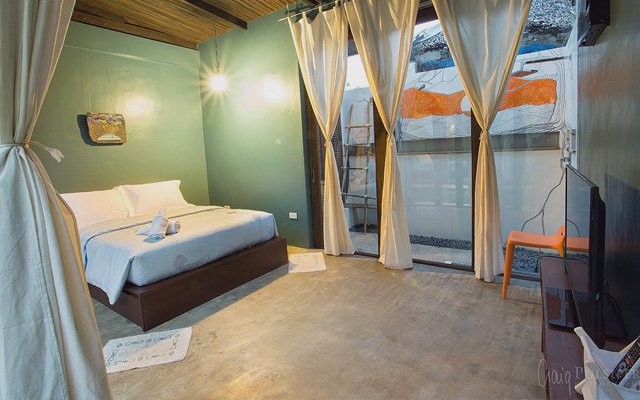 Surfhouse Baler
Alley 2 Buton Street, Sabang Beach
Contact: 0998-567-8293
E-mail: surfhousebaler@gmail.com
Rates start at P4,500
Surfhouse Baler is designed to make you feel like you are in a village—the difference is that the houses have floor-to-ceiling glass doors and walls. That and the fact that this is a much-needed vacation from your normal subdivision life. There's a main house that has a fully equipped kitchen for when you want to cook a meal for the brood.
How to Get There
Baler, Aurora is a five- to seven-hour bus ride from Manila, with the travel time depending on which bus you'll take from Cubao, Quezon City. Joybus Deluxe Bus takes five hours with no stops while a regular air-conditioned bus takes seven hours. You can also take a Genesis or ES Transport bus to Cabanatuan City, then transfer to Aurora Bus Line from there.
This story originally appeared on Spot.ph.
* Minor edits have been made by the umariba.com editors.